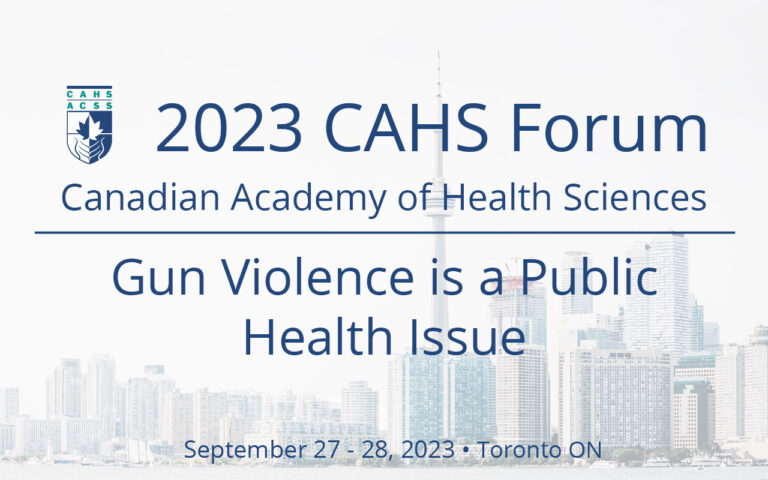 2023 CAHS Forum
8
8 people viewed this event.
This year's CAHS conference theme is Gun Violence is a Public Health Issue  is led by Dr. Najma Ahmed, MD PhD FRCSC FACS, Surgeon-in-Chief, St. Michael's Hospital – Unity Health and Vice-Chair of Education, Professor of Surgery, University of Toronto, Dr. Philip B. Berger, O.C. MD FCAHS, St. Michael's Hospital – Unity Health and Associate Professor, Temerty Faculty of Medicine, University of Toronto, and Dr. Jacinthe Lampron, MD MPHE FRCSC FACS, Medical Director of Trauma Program, General Surgery, The Ottawa Hospital.
Firearm injury and death rates have been increasing steadily in Canada over the decade.  Canada ranks 9th of 36 OECD countries for firearm mortality.  Gun violence affects all segments of society, as there are several forms of gun violence (including suicide, femicide, interpersonal violence and public mass shootings) each with its own unique epidemiology, risk factors and harm reduction strategies. Many of these injuries and deaths are preventable.  A multi-pronged approach including investments to address the social determinants of health, gun violence and efforts to end the proliferation of guns are necessary.  A public health approach with a focus on community engagement, public education and evidence informed policy is imperative to reducing harm.
This conference will assist health care providers in having informed and meaningful conversations with patients, families and communities affected by gun violence.  You will learn about risk reduction strategies in the context of your own practice as well as the necessity of science and evidence-based advocacy.  The content is presented in a thought-proving manner that will stimulate further scholarly work, development of programming for learners and scientific enquiry.
Additional Details
Time Zone - Eastern Standard Time
Event Organizer(s) - Canadian Academy of Health Sciences